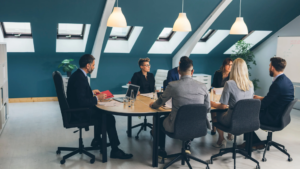 Presenting your monthly update at company meetings can be a challenge for many professionals.
It is that last Friday of the month; time for the monthly update
Everyone sits in exactly the same seat around the same table.
They tell each other largely the same things they say each month.
'Good morning, I'm here to update you on:
– Our department's performance against KPI's
– Project X
– Product Y
– Progress on Z
Monthly updates are great when they are mindfully presented
People need to know what's going.
If you craft your presentation purely as an update and open it as such, you could well see a few yawns stifled before you hit the next slide or turn the page.
The curse
Many professionals live in dread at the very thought of the monthly update.
Here's why:
– A great deal of it will be irrelevant to some people
– Some of it we will already know and much of it we don't care about
– A lot of it is designed to make the presenter look good rather than help the audience
– Probably, most of the information could be sent in an email
There is another way
The cure
It's simple but it takes courage and discipline.
Focus purely on the information your audience wants and needs.
Structurally there are 2 key elements to cure the monthly update.
1. What has changed
– Tell them what has changed since you last met.
– Be clear on why it's important to know and how it affects the business.
– Don't drown them in spreadsheets and slides. Data is important but only when it's relevant and has impact.
Less is often more
– Give them the written report or appendix afterwards. For now, just share the important headlines.
– Tell them the circumstances or conditions which have changed since you last met that requires curative action.
– Tell them exactly where you need their help and support and why should they help you?
2. What information do they need
– What do they need to know to help them to think, feel and act differently?
– How do you want them to think, feel and act on the information you have to share and why?
– If they hadn't turned up to the monthly update to receive the information, what would be the impact for them personally?
– How will their thoughts, feelings and behaviour change after your update?
 Everyone is busy and under pressure
– If you said it last month, don't say it again unless it's critical.
– What is so important that you couldn't share in an email?
"I have so much that I want to do. I hate wasting time." – Stephen Hawking
If you need help presenting your monthly update:
– Book onto a powerful public speaking course.
– Invest in some really good one to one public speaking coaching.
– Get your team some excellent presentation training
Image courtesy of Canva.com