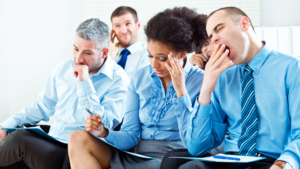 Presentation assassins come in all forms and every shape and size, they are everywhere.
They look just like you and I but you'll recognise them the moment they begin to present. Do whatever it takes to avoid them and make sure that whatever happens, you never become one.
Public speaking and presenting isn't particularly easy
Crafting and deliveing a high impact presentation takes:
– Time
– Focus
– Mindfulness
– Courage
– Creativity
– Preparation
– Practice
– Commitment
It's easy to ruin a business presentation and the process begins with a lack of mindfulness.
From presenting complex diagrams to cheesy stock images, even the best ideas are often lost through presentation assassins.
Your presentation is a reflection of you
Most presenters are searching for tips and techniques that can help them to present with confidence and impact.  Our website shares hundreds of extremley powerful tools and tips.
Before you search these out, let me share with you the best advice on what not to do..
Watch out for these 5 presentation assassins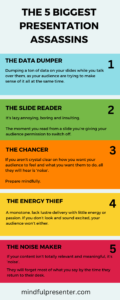 If you need help avoiding the presentation assassins:
– Book yourself onto a powerful public speaking course.
– Invest in some really good one to one public speaking coaching.
– Get yourself some excellent presentation training
Image courtesy of Canva.com