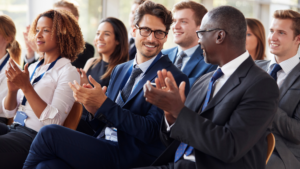 The 20 Habits of Truly Brilliant Presenters eBook has been downloaded over 25,000 times since it was published. Here is a brief visual overview of those 20 habits in the form of an infographic.

Mindful presenting is a highly affective way of managing and changing bad public speaking and presenting habits.
It's also the pathway to developing new, powerful habits that can help us to achieve our goals.
Eradicating bad habits is one thing but we are more likely to achieve long term success by building good habits.
Contrary to popular belief, brilliant presenters aren't born that way. They work extremely hard to develop the habits required to present with confidence, presence and impact.
Brilliant presenters have an attitude
"If you are going to achieve excellence in big things, you develop the habit in little matters. Excellence is not an exception, it is a prevailing attitude." – Colin Powell
Public speaking isn't a skill you can master overnight. It takes time, focus and a commitment to develop good habits.
If you want to be an effective presenter, you need to continuously work on building new habits.
Public speaking and presenting aside, if you're interested in the habits of highly successful people, the BBC has shared some very interesting videos.
If you would like to develop the habits of truly brilliant presenters:
– Book yourself onto a powerful public speaking course.
– Invest in some really good one to one public speaking coaching.
– Get yourself some excellent presentation training
Image courtesy of Canva.com