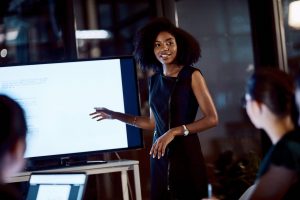 Public speaking mindfulness offer the key to success.
Mindfulness is commonly associated with being reserved, contemplative and even a little meek. Public speaking and presenting is often perceived as a skill that only extroverts can excel at.
Both perspectives are misplaced. Regardless of your personality, mindfulness can be extremely valuable in helping you to become a better public speaker. At Mindful Presenter we believe that the key to high impact presenting and public speaking starts with awareness, clarity and focus. We call it public speaking mindfulness.
For many people, presenting at work is often regarded as an interruption and inconvenience to their day.
It's often something put to the bottom of the 'to do list'.
The moment arrives when we can't put it off any longer and we just have to spring into action.
– The laptop appears.
– Followed quickly by the templates.
– The mind switches over to auto-pilot.
There is another way
Mindfulness is changing the world of public speaking and presenting in a way that is illuminating and refreshing. It equips and empowers us as speakers to connect with our audience emotionally as well as intellectually.
Here's how:
1. You get to meet you
Many of us are so busy being busy that we rarely take the time to really connect with our own thoughts and feelings. Attempting to connect with a disparate audience before connecting with ourselves first is a mistake.
Long before you open your laptop, ask yourself a few questions:
What are my natural gifts as a presenter; what works for me?
How do I feel about presenting; are my thoughts helping or hindering me?
What are my personal challenges as a presenter and how can I overcome them?
Am I excited or nervous about the idea of presenting; what's the difference?
How do I sound to my audience?
Why am I presenting anyway; what's so important?
Do I have any bad habits as a presenter; how do they affect me and my audience?
What will it take for me to be comfortable, confident and enjoy presenting?
How can I be present with myself before trying to connect with others?
2. You get to know your audience before you meet them
Whilst it may sound selfish, we owe it to our audience to connect with ourselves first. The process of healthy and balanced introspection has to be our first priority. Once we understand ourselves a little better we can then do the same with our audience.
Who are they really?
How much do I know about them?
How much do I care about them?
What difference can I make to their professional or personal lives?
What do they want and need the most from me?
How do I connect with them as people who have thoughts and feelings as I do?
Do they really just want information from me or do they want to feel something?
What do they want to feel?
How can I help them feel it?
3. You get to make wise choices
We are largely creatures of habit.
When it comes to presenting and public speaking, our habitual behaviour isn't helpful for our audience. Mindfulness opens us up to insights, creativity and a level of wisdom which can help us to connect with our audience
Do I really need PowerPoint or any visual aids?
Is this slide, fact, statement, quote or number completely relevant to my audience?
What is my message?
If I were to ask my audience to tweet my message, what would they say?
Do I really need 40 minutes of their time, or could I connect far more effectively in 20 minutes?
Would they be better served by me them simply sending them an email instead?
Have I invested enough time and energy, crafting,  preparing and practicing my presentation?
Should I postpone my presentation until I have something compelling to give my audience?
4. You get to connect
We live in a world full of noise, information and distractions. Every discerning audience wants new and helpful information. Mindfulness helps us to craft a presentation which filters the unnecessary and irrelevant information; the 'noise'.
In a disconnected  world the one thing many of us are crying out for is connection.
Information needs to be brought to life through:
Stories and anecdotes
Metaphors and similes
Humour
Contrast
Thought provoking questions
Drama
Surprise
Passion and purpose
5. You get to calm down
"There are two types of speakers: those that are nervous and those that are liars."  Mark Twain
A great number of people feel some level of anxiety when presenting and speaking in public. Many people feel extremely nervous; even to the point of experiencing panic attacks.
Mindfulness offers the solution nervous presenters have been searching for.
The human mind is conditioned to wander. Many of our thoughts are repetitive and a number of them can be very unhelpful.  Anyone who has experienced anxiety when presenting has struggled to stop those repetitive, destructive thoughts.
This extremely simple 3 step solution can change everything.
Step 1– Sit down with your spine straight and supported but in a way that you are comfortable.
Step 2– Close your eyes and focus your attention on your breath. Notice how it feels each time you breathe in and each time you breathe out.
Step 3 – When your mind wanders, and you can be certain that it will, bring your focus back to your breath and just notice how it feels again. You don't need to challenge or judge your thoughts just notice and feel each breath. Each time your mind wanders return it to your breath; don't worry about how many times you have to do so.
If nervousness is something which you find particularly challenging when presenting you may find the following video very helpful as Mel Robbins shares her way of handling anxiety and panic.
https://mel-robbins.mykajabi.com/p/31-sessions-anxiety-and-panic
If you need help presenting:
– Book yourself onto a powerful public speaking course.
– Invest in some really good one to one public speaking coaching.
– Get yourself some excellent presentation training
I really hope you enjoyed this post. If you did, please feel free to share it through your preferred social media channels below. Subscribe to our mailing list so you won't miss any future posts.
Image: Courtesy of iStock.com