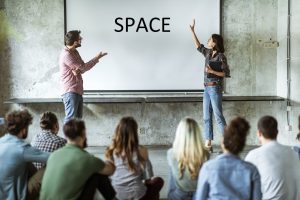 One of the most common requests we hear on our presentation skills workshops is to help people be like other presenters they've seen, heard and admire.
Our response is always the same; you don't have to be like someone else to become a great presenter. The best speakers are highly individual and don't perform to template or prescribed formulas. The speakers we tend to admire as 'great' speakers who get results may all have their own authentic personalities and speaking styles yet we believe they all share one thing in common; the unquestionable ability to connect with their audience. Here at Mindful Presenter we have a simple motto which we love and live by:
'Connecting is everything'
The best way we know to connect with an audience is through showing them SPACE:
Strength
Passion
Awareness
Connecting
Emotion
That doesn't mean you have to change yourself or follow a step by step blueprint but it does mean finding a way to reflect these qualities in a speaking style that works for you.
Strength is the foundation of any great presentation.
Put simply it means looking and sounding as if you mean every word you say every time you speak. It means presenting your message with confidence, conviction and sincerity. You don't have to be an extrovert or naturally confident person to speak with strength, you just have to believe in your message, believe in the difference it will make to your audience and speak with the tenacity and faith that you have something important to say.
Passion is the jewel in the crown of memorable presenting.
When you show up with passion for a presentation people pay attention and they know when you're passionate because you are animated, engaging, and enthusiastic. Passion is the art of showing you really care about the topic you are presenting, and let's be honest, if you don't care and your audience can sense that then why should they? Even the most mundane content can be brought to life through passion. You can demonstrate passion by sharing insights, stories, experiences and showing your audience how much you care.
Awareness is the beginning of the presenter's journey.
It starts way before PowerPoint, Keynote, Prezi, or any other visual aid software presenters are normally keen to dive into. Awareness begins with having absolute clarity of who you are in the context of your presentation and audience, what you have to offer them, how you can relate to them, and what you really want from them. Then you need to do your homework and understand everything you possibly can about your audience. That includes, why they should bother to turn up in the first place, how much they already know about what you have to say, what will help them sleep better at night, what they are like, what they care about and how you can connect with them.
Connecting is everything.
Regardless of your position or status we all have one thing in common; the need to feel connected!
Presentations are an incredible opportunity to fuse that connection and it's easy if you make it your number one priority. Self- disclosure is a great way of starting and you can do this by letting your audience into a little part of your world by telling them something about you; sharing your personal experiences, feelings hopes and even anxieties. Show your audience that you're human and vulnerable just like them; show them that you have their best interests at heart; that you care, that you can see things from their perspective and that you're in this together.
Emotion is the deepest function of the mind, and what better way to connect with your audience than by helping them to feel something?
"I've learned that people will forget what you said, people will forget what you did, but people will never forget how you made them feel."
 Maya Angelou
Be mindful about how you want your audience to feel at the beginning, during and at the end of your presentation. Tell them stories and help them use their imagination to feel and experience your message. Telling stories is the quickest and most effective way to create excitement, hope and anticipation.  Decide how you want your audience to feel and help them to feel it.
Our readers are always looking for powerful ways to give their audiences SPACE so if you have some that work for you and would like to share please feel free to do so in the comments section.
Public speaking is one of the most sought after and important skills for professionals today so watch out for future articles we will be posting regularly which you can use as your own personal presentation skills coach.
I really hope you enjoyed this post. If you did, please feel free to share it through your preferred social media channels below and subscribe to our mailing list so you won't miss any future posts.
If this article has inspired you to learn a little more about how effective your presentation skills are you may want to take a look at our presentation training and presentation coaching pages to see how we may be able to help you. You will also find a great deal of really helpful 'free' information in our Learning Centre.
Image courtesy of: istockphoto.com