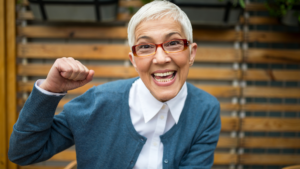 I don't think many people would argue with the idea that it's your attitude that makes all the difference in life.
Your attitude also makes a huge difference when it comes to public speaking and presenting too, which is often something many people overlook.
A mindful presenter has an attitude of:
Empathy
Imagine the shift in mindset if you put the needs, feelings, experience and objectives of your audience first.
Positivity
Our entire verbal and non-verbal demeanour reflects the way we think and feel.
Focus
Focusing our  mental and emotional energy on connecting with our audience rather than trying to impress them.
Optimism
It's easy to believe that your presentation won't go well. Adopting a confident and hopeful attitiude is harder but vital to success.
Gratitude
Appreciating the opportunity to speak and be heard, rather than seeing it as an inconvenience.
Authenticity
Accepting that your audience want to hear the real you, not a slick, memorised polished speaker.
Reality
It's not about trying to be the perfect speaker, it's about making a difference to your audience's lives.
Playfulness
Being professional doesn't mean we have to be deadly serious all of the time; we can lighten up and have some fun too.
Openness
Expressing ourselves openly with our voice, body and having the courage to be a little vulnerable too.
Success
Seeing the opportunities and possibilities available to us to add value and help others.
Courage
"Feel the fear and do it anyway!" Susan Jeffers
The late Zig Ziglar was another of my favourite speakers.
I believe it's hard to argue with what Zig famously said:
"Of course motivation is not permanent. But then, neither is bathing; but it is something you should do on a regular basis."
It's the same with our attitude
It's a work in progress for all of us and something we need to adjust on a regular basis, especially when presenting.
"People may hear your words, but they feel your attitude."  John C. Maxwell
If the idea of being motivated doesn't resonate with you, how does the belief that:
'It's your attitude that makes all the difference'
There is nothing new in that of course but then like so many aspects of life and success, we often know and understand intellectually what to do, yet we still don't do it.
That's why there will always be a place in this world for exceptional motivational speakers. In fact, I would argue that there aren't enough of them today.
I believe that there are many reasons why Zig Ziglar was such a successful motivational speaker.
Whether you are presenting a monthly update, project status report, sales pitch or at a team meeting, there is immense value in learning from so many of the great motivational speakers like Zig Ziglar.
In a business presentation your intention may not be to motivate but regardless of your objective, you will want to:
– Get our audience's undivided attention from the word go and to keep it.
– Help them to understand your message intellectually and feel it emotionally.
– Ensure your audience remember you and your message.
– Keep them engaged, intrigued and believe in your message.
– Get your audience to do something when you've finished speaking.
 'Attitude Makes All the Difference'

Aside from the extremely powerful universal truth that, 'Attitude Makes All the Difference', here are a few things I believe we can take from the video to help our presentations in business:
– Opening his presentation with a powerful, descriptive and relevant story that we can all relate to.
– He doesn't simply 'tell' the story but 'acts' it out so that we can get to experience it as he did. As he describes in the story how angry someone was as she walked towards him, he walks angrily towards his audience. As he talks about her crying he makes it look and sound as though he was about to cry himself.
– Zig stimulates his audience by moving among them with purpose, making eye contact with as many people as he can.
– He uses the 'Rule of Three' to great effect when talking about people he had spoken to in 'psychology, psychiatry and the ministry,' raising a finger each time for effect.
– He uses humour appropriate in his storytelling.
– Every aspect of his vocal and non-verbal expressions is not only animated and variable but totally congruent with what he is actually say at each point.
– His voice is generally loud and energetic, yet he drops his volume, tone and pace right down when he wants to draw his audience in closer to him.
– He asks a rhetorical question that we can all relate to which helps him to bring his point to life:
'Have you ever noticed that people who are the problem never recognise that they are'?
– Just when he gets his audience nodding in agreement, he does it again:
' Have you ever noticed that when somebody is about to lose something they've been complaining about, whether it's a car, a home, a mate, a job or whatever, when all of a sudden it appears they are going to lose them it take on brand new value.'
What better way is there of connecting with your audience early on than by relating to them on a personal level, sharing common human experiences.
That's just in the first three minutes
Zig Ziglar is mindful that he has less than 10 minutes to not only deliver a powerful message but to get his audience to feel and act on it too.
Investing heavily in those first three minutes was a major part of his success.
He has his audience's attention, they can see and feel how passionate he is and everything he has done so far is authentic and engaging.
His talk continues to build in strength with everything he says and does supporting his key message: 'Attitude Makes All the Difference'.
I'm sure you will agree that is a powerful mantra for each of us in life in general, especially when it comes to public speaking and presenting.
If you'd like to develop your  attitude towards public speaking and presenting:
– Book yourself onto a powerful public speaking course.
– Invest in some really good one to one public speaking coaching.
– Get yourself some excellent presentation training
Image: Courtesy of canva.com