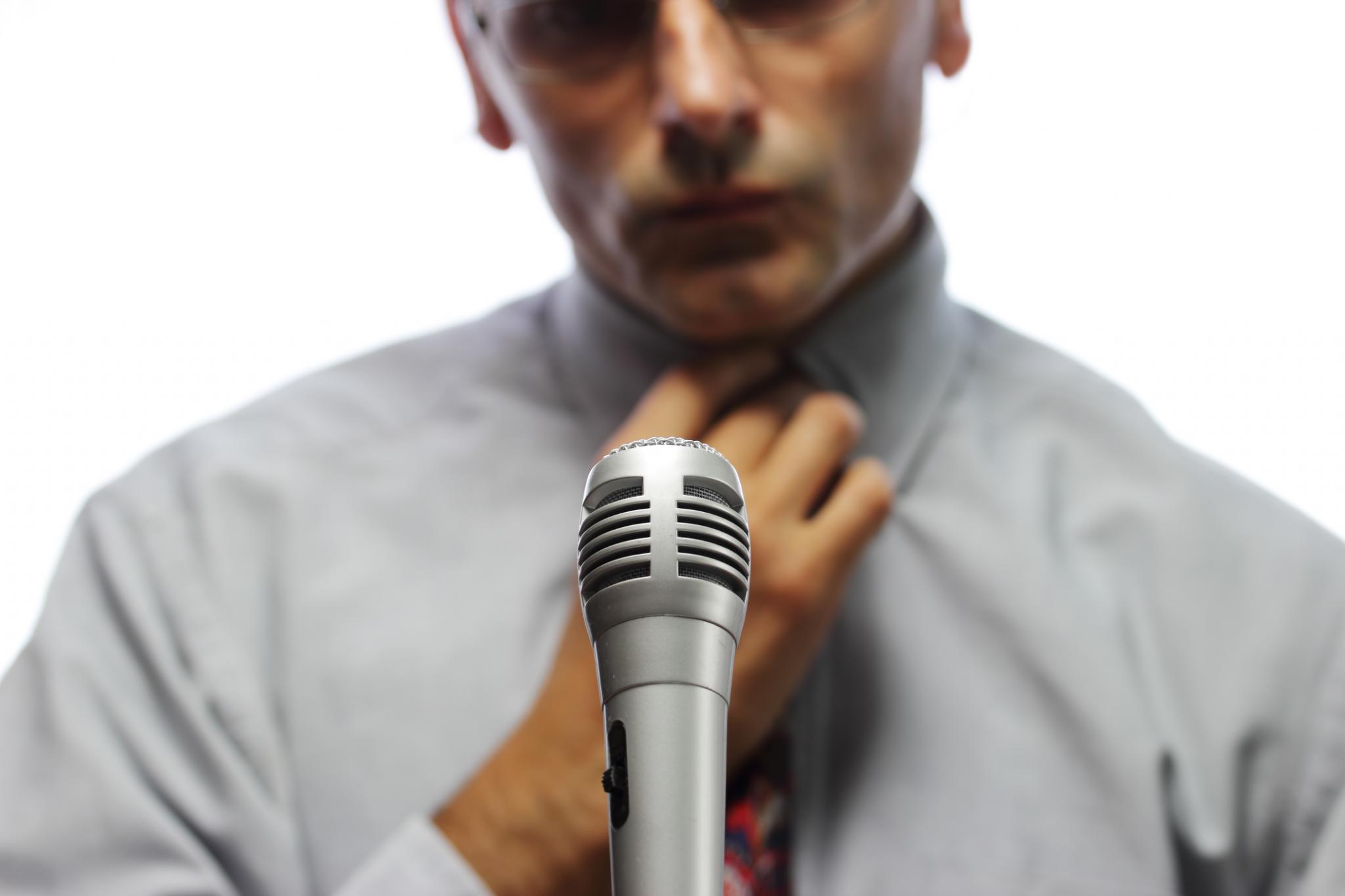 Imagine a presentation where the presenter felt terrified beyond belief yet the audience had no idea how anxious they were,.
It really is a presentation and public speaking phenomenon.
This week I was leading a workshop where one of the best speakers in the room said that on a scale of 1 to 10 of nervousness, with 10 representing the worst, he felt like a 12. Making notes as I carefully watched and listened to him I wrote down that he was a natural, confident and engaging speaker.
Having given one of the best performances I had seen in some time he said that underneath it all it felt almost unbearable.
We see something very similar every week in our presentation training workshops and presentation coaching sessions.
How is that even possible?
How can someone speak without any time at all to prepare in way that is so captivating and engaging yet feel and believe that they were absolutely awful? More importantly, how could they feel so anxious that they were almost at the point of running out of the room, when the audience saw someone who they felt looked relaxed and confident?
It doesn't make sense, does it?
Public speaking and presenting aside, I have had the great pleasure of having been married to the most beautiful woman on earth for the last 25 years.  When I look at her I see nothing but human perfection, yet somehow she often sees something else.
From the first moment we met she has been very conscious of her size and weight and has been on and off a diet with incredible frequency for the past 25 years.
Despite my constant reassurance that she is not overweight she insists that she is.
Let's be clear
Some people are terrible presenters and some people definitely need to lose weight.  Have you noticed though how so much of it is in the mind?
Everything is a belief
I had a very interesting conversation with my son today who in terms of intelligence is unquestionably way ahead of my intellect. The end result of our conversation was that whether you are a theologian or a scientist if you are searching for the truth then the best you can hope for is your belief.
In other words, if you believe you are a nervous wreck and terrible speaker then that is likely to become your reality. Conversely if you believe that you have something to say which is not only important but will make a tangible difference to your audience you are more likely to do so.
Where does it start?
Most of our beliefs are shaped by others when we are small children. Our parents, teachers, our environment and even television contribute to how our beliefs are formulated. These are of course just a handful of the countless sources that affect us. Have you ever stopped to think about how so many of our beliefs are limiting ones that can hold us back so much?
Limiting beliefs extend way beyond our presentation skills; here are some of the common ones:
– I'm not smart enough
– I'm too young, too old, too unfit, etc.
– I don't have the experience
– I could never do something like that
– I don't have the confidence
– I'm rubbish at that sort of thing
When it comes to presenting and speaking in public here are a few of those that hold so many professionals back.
– No one will want to listen to me
– My ideas aren't good/interesting enough
– I can't speak well enough to engage an audience
– No one is going to find this interesting
– I'm a terrible/nervous/boring speaker
Everyone feels some level of anxiety when they are presenting or speaking in public it's entirely normal and healthy. Those of us who feel so nervous that we are paralysed by our anxiety or simply do whatever we can to avoid presenting have very strong limiting beliefs.
Are beliefs real?
It seems to me that a belief is simply a thought that we have repeated to ourselves over and over again with such frequency and longevity that it becomes very real to us.
Those thoughts don't necessarily make them real or even true, that's just the way they appear to us.
That means that even the most intelligent, talented, responsible and creative professional can give a highly engaging presentation in the personal belief that they are terrible.
What can we do about them?
The very first thing we have to do is to identify our beliefs, acknowledge the negative impact they are having on us and remind ourselves that they are not real. Limiting beliefs live in an interesting and protected world of their own.
They exist and thrive in many of us unnoticed and unchallenged. Let's look at that in the context of the presenter who feels like a 12 on that scale of nervousness yet their audience sees a relaxed and confident speaker.
– They know they feel terrified
– They know it's because of what they are thinking
– They know how damaging and limiting that thought is
– They don't know that that thought is one they have learned
– They don't know that the thought is just a thought and that it doesn't make it true or real
– They don't challenge those thoughts and do whatever it takes to change them
Identify and acknowledge them
In the quiet of your own mind with nothing more than a pen and piece of paper in front of you take a few deep breaths and ask yourself:
– Why does the thought and physical process of presenting and speaking in public cause me so much anxiety?
– If it's because you believe that no one will listen to you do you actually know that to be true? Has that actually ever happened to you or even anyone else you know?
– If it's because you believe that no one will find what you have to say interesting do you actually know that to be true? If you somehow absolutely know it to be true then why would you present information that isn't remotely interesting or of value to anyone in the first place? Shouldn't you either not present on that topic at all or do whatever it takes to find something that you know will be of interest or value to them?
– If it's because you believe you can't speak well enough to engage an audience do you actually know that to be true? Has anyone ever told you that directly and explained to you why they feel that way? If it's something you have to do as part of your job or want to do why don't you get some training or coaching and learn how to do it? Were all good speakers and presenters born that way or was it something they had to learn how to do?
– If you are terrified and believe that your audience will see how scared you are do you actually know that they can see and feel your fear? If you have been told that you look and sound confident yet you still feel terrified why won't you accept what you've been told as the truth?
Another problem
For many of us it's all well and good knowing that we have a limiting belief which is not true but that offers us no comfort and it doesn't stop us from dreading speaking in public.
The nervous presenter's magic cure
Unfortunately there is no 'silver bullet', magic pill or potion that can dissolve your own limiting belief in an instant. The solution is accessible through your own mind although it takes awareness, patience, honesty and courage.
The awareness to identify them and become very mindful of the impact they are having.
The patience to spend time thinking about them and reflecting on the reality that it's simply something you have learned to think and accept as true.
The honesty to acknowledge that most of what you tell yourself that holds you back and makes you feel so anxious isn't true.
The courage to challenge your beliefs and do whatever it takes to change them.
Finally, if you have invested a great deal of time and energy in believing something to be true about you that others tell you is not true you need to start believing them.
I really hope you enjoyed this post. If you did, please feel free to share it through your preferred social media channels below and subscribe to our mailing list so you won't miss any future posts.
If this article has inspired you to learn a little more about how effective your presentation skills are you may want to take a look at our presentation training and presentation coaching pages to see how we may be able to help you. You will also find a great deal of really helpful 'free' information in our Learning Centre.
Image: Courtesy of dreamstime.com