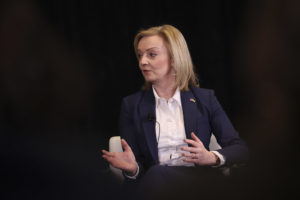 Is Liz Truss really such an awful public speaker.
One publication has awarded her the title of, 'The public's Dalek.'
Another suggested, 'she lacked passion and empathy.'
In terms of content, another believes that, 'The speech was not even particularly well-written.'
Rachel Moss, writes in the Huffington Post, 'The slow blinking, mistimed pauses, vacant smile and occasional fluffed sentence bring to mind one word: awkward '
How about this, 'Liz Truss lacks 'emotional connection' and 'decorative icing.'
I could continue but let me leave you with this from the critics, 'Truss's speaking style is, "in a peculiar way, obedient and formulaic".
Everyone will of course have their own view on Liz Truss's oratory skills.
In delivering her first conference speech as prime minister was Liz Truss such a bad speaker?
The short answer is no
If you were to compare Liz Russ to 'The World's 10 Most Influential Motivational Speakers' she doesn't come close. The question is, would you expect her to.
She is a prime minister not a motivational guru
Please don't misunderstand me, I would like nothing more than to have a prime minister who speaks with great eloquence, passion and presence.
Perhaps Liz Truss will surprise us all in time
The fact is, brilliant public speakers are not born that way.
The majority have to practice and perfect their oratory skills, which takes time.
At the moment, Liz Truss may not deliver her message with the power that resonates with everyone but I believe she will grow in confidence and skill as a speaker.
At the moment I'm also not a huge fan of her presentation style but given that public speaking isn't her 'natural' gift, we should give credit where it's due.
Everyone will have their own view on her political stance and policies but putting those aside for a moment let's look at what works for Liz Truss.
In her first conference speech as prime minister, Liz Truss works hard to:
– Speak at a reasonable pace
– Pause from time to time
– Speak openly and articulately
– Show a little humility
– Offer some personal self-disclosure
– Acknowledge her audience and environment
– Use 'The rule of three' to give examples
– Deal confidently with unforeseen disturbances
– Empathise with current challenges
– Be assertive in her stance
– Use words meaningfully, 'determined to get us through the tempest'
– Open and close her speech well
– Stick to her message of 'growth, growth, growth
– Emphasise key words
– Smile
– Gesture
I am mindful of the fact that everything that I have listed above as positive, the ardent critic could present as a negative.
I'm certain I could too, if I really wanted to and made the effort to focus on the negative.
What's next
I think we should give Liz Truss time to find and express her authentic public speaking voice. Liz Truss, like everyone else on the planet has her own public  speaking style. She has taken on, by choice, what is arguably one of the most challenging jobs in the world.
I'm not sure the job application for  prime minister would have insisted on world class public speaking prowess, although I'm sure many would argue that it should.
For now, we have a prime minister who has made no claim to being a world class orator. Let's give her the credit for having the courage to address a nation and I'm sure we will see her public speaking style develop as she faces the challenges most of us wouldn't want to.
Disclaimer: This article is not intended to be a commentary on the rights or wrongs of Liz Truss's political stance. It is solely a perspective on a new prime ministers first conference speech.
Watch the full speech here:

If you need help with the public speaking skills:
– Book yourself onto a powerful public speaking course.
– Invest in some really good one to one public speaking coaching.
– Get yourself some excellent presentation training
Image courtesy of Flickr.com