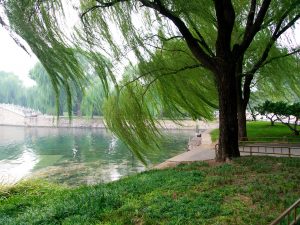 Presence is the 'jewel in the crown' of high impact business presenting. It's the elixir of public speaking and presenting that allows us to communicate creatively with clarity and confidence. If you could buy it in a pill or a potion someone would be extremely rich. Paradoxically despite it being such a coveted trait, it is also a source of great anxiety for many professionals.
The inherent human need to look good, connect and stand out from the crowd can be very disconcerting when standing to speak. We know that we need to exude presence but we are not entirely sure what it is or how to express it. The idea feels a little nebulous to most of us; what does it look like, how does it feel and how can we spot it?
Most importantly, how do I get it?
It's a bit like the word 'charisma', we've all heard of it and use it from time to time but what is it really? It seems that we know it when we see it but it's so ill-defined it's often hard to explain. If it's hard to understand and explain for ourselves then what chance do we stand in giving it to our audience?
The willow
Whilst it may not immediately seem analogous the following quote by Albert Schweitzer connects with me when I think about presence:
"The willow which bends to the tempest, often escapes better than the oak which resists it; and so, in great calamities, it sometimes happens that light and frivolous spirits recover their elasticity and presence of mind sooner than those of a loftier character."
Many speakers see their audience as the 'tempest' and worry about 'great calamities' when they would be far better served by bending gracefully like the willow. I like the idea of not taking ourselves so seriously that we can't just be with our audience. There is often so much resistance and overthinking involved in presenting that we spend too much time focused on ourselves and 'getting it right'.
We would be far better served if we were more like the willow, and learned how to just be. Of course, the willow tree doesn't have the consciousness that we do so thinking doesn't get in the way of it's being.
That said, we have the opportunity to use our consciousness to our advantage. In doing so here is what we need to be to be present:
Aware
You aren't there to entertain or impress your audience despite what you may have taught yourself to believe. You are speaking to share something that will be of value and make a difference to them. Your only purpose is to be clear on this objective and to deliver your message in a way that connects with them emotionally as well as intellectually.
Will you be nervous?
Yes, it's part of who we all are, blame your reptilian brain but be aware that it's completely normal.
Are you being judged?
Yes, that's what human beings do.  It's not personal so don't obsess on it. Be aware that all you have to do is tell them something that they need to know.
Should you be yourself?
No, be the best of yourself. Remind yourself what that looks like by becoming aware of everything you are, all that you have achieved and all that you have to give.
Relaxed
How can anyone be truly present in the room with fellow human beings if they haven't taken a moment to slow down and calm down. If you find yourself rushing from a meeting, problem or difficult conversation to present to an audience I can promise you that you won't be in the room. Yes, they will see you standing there but it's just your body; it doesn't mean you are fully in the room.
Arrive early
If it's at all possible make sure you are the first person in the room before your audience arrives. Take a few minutes to simply be in the room. Stand where you will be speaking, breath and notice. Notice the lighting, the temperature, the space, the sounds and notice how you feel. Make yourself comfortable in the room by taking time to adjust to your surroundings.
Breathe
You've heard it a million times, take deep breaths. The reason is, it works. When we're nervous we tend to either hold our breath or breath very shallowly. The result is our muscles tighten and the mind loses focus.  Your brain and body need oxygen to function at its best and the only way to give it to them both is to breathe deeply.
Smile
Apart from breathing deeply one of the most powerful gifts you can give to yourself and your audience simultaneously is to smile. Smiling not only makes you look confident, friendly and relaxed it releases endorphins which make you feel good too.
Tuned in
Trying to connect with your audience without connecting with yourself first is futile. It's a bit like going on a first date and talking incessantly about your Ex then wondering why she went to the rest room and didn't return.
Who are you?
I don't mean your position, title or status in the organisation. I mean who are you as a person; how do you speak; how do you connect? What are your strengths when you're communicating, what works for you, what's your style?  What are your bad habits, weakness' and what gets in the way of you connecting? If you don't know the answers then go and get some feedback.
Who are your audience?
How much do you know about them? What keeps them up at night or troubles them most about the issue you are presenting on?  What do they want and need from you?
How can you craft your content in a way that will connect with them? What do you need to do to keep them interested, engaged and curious?
How do you want them to feel and what do you want them to do next? Why should they do it?
What's your message?
I can't tell you the number of senior executives I have personally coached who have reams and reams of content but no clear message. In the absence of a clear, relevant and compelling message most of your presentation will be received as 'noise' to your audience. They will forget most of what you shared by the time they return to their desk or car.
What is your message and why should they care about it?
Willing
The exceptional presenters who speak with presence don't just have a powerful message, a clear objective and strong intention. They are also willing to do whatever it takes to connect with their audience in a way that they will be thankful for.
The real you
Far too many business presenters don the corporate spokesperson cloak the moment they stand to speak. Avoid the temptation by being willing and keen to be authentic. The way to do that is to get rid of the idea of presenting and focus on having a conversation instead.
Imagine you are speaking to friends or family; people you really care about. Speak to them as though you are having a conversation at home instead of in the board room, meeting room or conference.
Your world
Your audience want the facts, data and evidence but they also what to know a little about the person who is sharing it all. Have the courage to be willing to let them into your world by giving them an insight into how you really think and feel.  Let them know that you are the same as them and why they can trust and connect with you.
Take risks
Walk in to any business meeting anywhere in the world today and it is likely that you will see professionals presenting the same information in the same way that everyone in their organisation does. Be willing to challenge the status quo and dare to be a little different. Be mindful, creative and bold.
You're aware, relaxed, tuned in and willing, is that enough?
It's the foundation and platform to success in mindful presenting but it's an ongoing journey.
Once you're aware, relaxed, tuned in and willing you've laid the groundwork for speaking with presence. The quest continues with:
How you look?
Do you remember I told you earlier that you are being judged when you speak? Well it's true and whether you like it or not your audience will also judge you on your appearance. Being your best and giving your best isn't enough, you have to look your best in terms of dressing appropriately too.
How you sound?
Just because you know your content and have the confidence to share it doesn't mean it will be received well. How you speak and sound is vitally important. Your voice will also impact your presence.
Not everyone can command an audience easily with their voice,  it takes focus, effort and practice. To speak with presence, you have to challenge and stretch your vocal chords without simply being too loud or harsh. Speaking slowly, pausing and lowering the pitch your voice will serve you well.
Find some vocal exercises to help you to strengthen your voice.
How do you move?
Movement is energy, it offers visual stimulation to your audience. A presenter who stands still, doesn't use their hands and sounds monotone lacks presence.
Stand tall and firm with your feet shoulder or hip width apart and equally distributed between both feet. Connect yourself to the ground beneath you and keep your spine straight. Once you've grounded yourself don't just stand still.
Move meaningfully and with purpose. If you are talking about the future take a step forward. If you're referring to the past step backwards. Don't pace up and down or sway but do move.
How do you make eye contact?
When presenting, the most important thing in the room isn't you or your slides; it's your audience. You owe it to them to recognise that importance and look at them. They certainly won't trust or connect with you if you don't.
If you are presenting to a small audience be certain to make eye contact with each of them. All you need to do is look at them with a soft friendly glance for a couple of seconds. Don't stare or hold eye contact for too long. If you are presenting to a much larger group where it's impossible or inappropriate to make eye contact with each of them then divide them up into segments in your mind and find people in each segment to make eye contact with.
Presenting with presence isn't about speaking loudly in a way that is demanding, harsh or aggressive its quite the opposite. It's speaking with a calm confidence, that is warm, real, respectful and endearing.
If you need help ensuring you never lose, bore or annoy your presentation audience:
– Book yourself onto a powerful public speaking course.
– Invest in some really good one to one public speaking coaching.
– Get yourself some excellent presentation training
Image courtesy of: www.Flickr.com