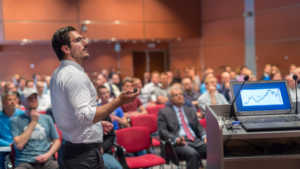 Have you ever tried to win an argument; I think we all have.
Personally, I don't like the idea of arguing with anyone or even writing about it but I'm confident we've all been there. I share Dale Carnegie's view, which he shared in his best-selling book, 'How to Win Friends and Influence People': "I have come to the conclusion that there is only one way under high heaven to get the best of an argument — and that is to avoid it. Avoid it as you would avoid rattlesnakes and earthquakes."
To 'win an argument' can sound aggressive, confrontational or emotionally charged. It's not one of the most pleasant human experiences. That said, it does seem to be a part of human conditioning. I can relate to the idea shared in Psychology Today: 'There are an infinite variety of strategies for winning an argument, but only a few motives driving the compulsion to win, the most prevalent being the desire to avoid humiliation, punishment, or loss of power by defeating the partner and affirming the dominant position in the relationship.'
That particular article refers to arguments with a partner, although in business we also want to, 'avoid humiliation, punishment, or loss of power.'
It's chemical too!
I have no doubt that we can all relate to the article, 'Why You Need to Win' which suggests that: 'Your desire to win could be related to a chemical in your brain called dopamine, which is linked to pleasure.'
The dopamine pay off isn't restricted to winning at golf, tennis or your favourite sport, it can be felt when we win an argument too.
What about presenting and public speaking?
Most public speaking and presenting situations aren't designed to win an argument but they are often intended to change or influence minds.
For the purpose of this article, I'd like you to consider the term 'win an argument' in the context of influencing, persuading or changing the minds of others. To see things differently or accept and agree with another perspective.
A perfect example
There was a children's television program in the US called Mister Roger's Neighborhood which ran for 33 years from 1968 to 2001 on PBS. The series was created by Fed Rogers and in 1969 because President Nixon wanted to reduce funding for the network, a congressional hearing was held to determine if the funding could be stopped.
Fred Rogers, an ordained preacher with a passionate concern for the welfare of children and the challenges they faced, addressed the hearing changing the course of history for the show.
Here is exactly how he saved the popular television program in less than 7 minutes

The facts
– "My first children's program was on WQED fifteen years ago, and its budget was $30. Now, with the help of the Sears-Roebuck Foundation and National Educational Television, as well as all of the affiliated stations — each station pays to show our program. It's a unique kind of funding in educational television. With this help, now our program has a budget of $6000.
– It may sound like quite a difference, but $6000 pays for less than two minutes of cartoons.
 – Two minutes of animated, what I sometimes say, bombardment. I'm very much concerned, as I know you are, about what's being delivered to our children in this country.'
– I've worked in the field of child development for six years now, trying to understand the inner needs of children. We deal with such things as — the inner drama of childhood. We don't have to bop somebody over the head to…make drama on the screen. We deal with such things as getting a haircut, or the feelings about brothers and sisters, and the kind of anger that arises in simple family situations. And we speak to it constructively.
– It's a half hour every day. Most channels schedule it in the noontime as well as in the evening. WETA here has scheduled it in the late afternoon.
– We made a hundred programs for EEN, the Eastern Educational Network, and then when the money ran out, people in Boston and Pittsburgh and Chicago all came to the fore and said we've got to have more of this neighborhood expression of care.
 The feelings
– "I give an expression of care every day to each child, to help him realize that he is unique. I end the program by saying, "You've made this day a special day, by just your being you. There's no person in the whole world like you, and I like you, just the way you are." And I feel that if we in public television can only make it clear that feelings are mentionable and manageable, we will have done a great service for mental health. I think that it's much more dramatic that two men could be working out their feelings of anger — much more dramatic than showing something of gunfire. I'm constantly concerned about what our children are seeing, and for 15 years I have tried in this country and Canada, to present what I feel is a meaningful expression of care."
The Future
– Fred Rogers shared the words of one of his songs:
"What do you do with the mad that you feel?
 When you feel so mad you could bite.
When the whole wide world seems oh so wrong, and nothing you do seems very right.
What do you do?
 Do you punch a bag?
Do you pound some clay or some dough?
Do you round up friends for a game of tag or see how fast you go?
It's great to be able to stop when you've planned a thing that's wrong. And be able to do something else instead, and think this song —
I can stop when I want to.
Can stop when I wish.
Can stop, stop, stop anytime….And what a good feeling to feel like this!
And know that the feeling is really mine.
Know that there's something deep inside that helps us become what we can.
For a girl can be someday a lady, and a boy can be someday a man."
The outcome
Senator John Pastore said: "I think it's wonderful. I think it's wonderful. Looks like you just earned the 20 million dollars."
The facts on their own aren't enough
Senator Pastore could have easily read the facts for himself. I'm sure you would agree that the facts alone would not have saved the program.
Logic on it's own wasn't enough to save the show. Fred Rogers had to connect with the Senator emotionally too.
Speaking purely from the heart isn't always enough either, we have to share a vision of the future for our audience:
"Know that there's something deep inside that helps us become what we can.
For a girl can be someday a lady, and a boy can be someday a man."
I'm mindful of the fact that this speech was made in 1969. If it were made again today, I'm hopeful it would say that a girl or boy can someday be anything they wish to be; no limits and no exceptions!
Whether you want to win an argument, present an idea, opportunity or simply share the third quarters results, do so with the facts, feelings and future.
If you'd like to learn how to win an argument and present with impact
– Book yourself onto a powerful public speaking course.
– Invest in some really good one to one public speaking coaching.
– Get yourself some excellent presentation training
Image courtesy of Canva.com