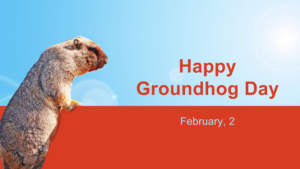 Have you ever sat through a business presentation that felt a bit like Groundhog Day?
It's that feeling that you've been there before; it's like déjà vu on steroids.
You may be listening to a different presenter sharing different content but it looks, feels and sounds the same.
It's like you're reliving the same business presentations over and over again.
Another presentation with:
– Too much text on slides
– The presenter reading to you
– Content that isn't completely relevant to you
– A presentation which could have been done in half the time it actually took
– A boring beginning and forgettable close
– No audience interaction
– A 'data dump' and no clarity of message or purpose
– Unengaging content
– A monotone delivery
– Templates and cheesy PowerPoint or Clipart images you've seen a million times
There is a lesson to be learned from the film Groundhog day
In the 1993 movie, actor, Bill Murray plays the role of a very disgruntled TV weatherman.
The film revolves around Bill waking up on Groundhog Day and subsequently finds himself reliving the same day over and over again.
This sounds quite depressing of course, but what if Bill learns at least one thing each day that he can use to his advantage the next day?
That's the lesson of Groundhog day for business presentations
If you've been on the receiving end of some of the Groundhog day presentations I described earlier, don't despair.
There is an opportunity for you to mindfully consider everything you've experienced and pay real attention to how you can use the failures of other presenters to your advantage.
How to avoid the feeling of Groundhog Day in business presentations
– Identify the opportunities for change
– Be honest with yourself about what doesn't work
– Get to know your audience before you speak – find out what they want
– Ask people you trust to give you feedback on what works and doesn't work so well
– Never read your slides out aloud
– Open and close with impact
– Adopt the mantra 'less is more'
– Focus on connecting with your audience, not impressing them
– Find a brilliant public speaking coach
– Practice vocal exercises
– Craft content which is rich, relevant and compelling
– Be crystal clear on your message
– Ditch the bullet points
– Remember that you are your presentation, not your slides
– Connect emotionally as well as intellectually
– Tell them stories
– Communicate with images
– Book a place on world class public speaking course
– Read THIS
The key to avoiding the feeling of Groundhog day in business presentations is to find the courage to challenge the status quo.
We live in a world of information
Your audience want and need more than just the data.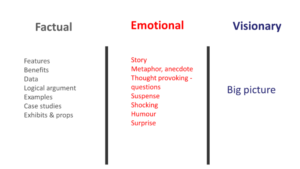 Despite it being one of my favourite films, it took me a long time to realise that Groundhog day is a real celebration.
It was first celebrated on February 2, 1887 in Punxsutawney, Pennsylvania and is celebrated on that day each year.
Groundhog day is next week; watch out for it in your business presentations
If you'd like help avoiding the feeling of Groundhog Day in your business presentations
– Book yourself onto a powerful public speaking course.
– Invest in some really good one to one public speaking coaching.
– Get yourself some excellent presentation training
Image courtesy of Canva.com