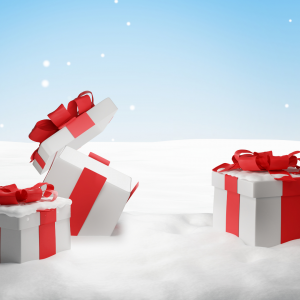 It's nearly Christmas.
It won't be long now until you are spraying yourself with your new scent, trying on your swanky scarf, demolishing the turkey and sipping that Sauvignon. With that in mind, here are 3 christmas gifts from all of us here at Mindful Presenter.
This time of year, as we head in to a brand new year, most of us are drawn to the feeling of wanting to  become happier, healthier, wealthier and wiser. Before the clock strikes midnight on the 31st December, take a few moments to open these 3 christmas gifts.
Here are a hand picked selection of our favourite TED Talks this Christmas chosen for 3 reasons:
– The power and life changing potential of their message
– How  simply yet beautifully the messages are delivered
– The inherent gifts they offer each of us at this  special time of year
1. Try going nowhere 
From the moment we each take our first intake of breath, to the instant we exhale our last, every element of the journey between those two extreme points seems to be focused on getting and being somewhere.
It's just the way we have evolved.
We are hard wired to experience the world to get somewhere; mostly somewhere better than here.
This year for me, will be the eigth Christmas since my mothers passing.  Like each of us, she came into this world from nowhere, to be now here; then seventy nine years on, she left to be seemingly nowhere once again. During that time she spent most of her life trying to get somewhere.
We all want to get somewhere don't we?
That's why our first Christmas gift to you is Pico Iyer's  TED Talk 'The Art of Stillness.'
It's about passion
At Mindful Presenter we are clear that the one winning ingredient of every great speech is passion. That said, most people perceive passion as a state of high energy and exuberance where the speaker is loudly leaping around the platform making lavish gestures.
As Pico so eloquently demonstrates in this talk, passion is equally and highly visible through sensitivity, belief and authenticity. Even the most softly spoken presenter can demonstrate extraordinary passion.
His mindful and colourful use of language lends itself perfectly to the point he is trying to illustrate:
"And I really began to feel that if you were lucky enough to walk around the candlelit temples of Tibet or to wander along the seafronts in Havana with music passing all around you, you could bring those sounds and the high cobalt skies and the flash of the blue ocean back to your friends at home, and really bring some magic and clarity to your own life."
Practice the art of stillness this Christmas.
2. Don't postpone anything
A few years ago I published a blog entitled 'A presentation without stories is a lecture'. At Mindful Presenter we believe that regardless of the topic we are presenting, we each have a story to tell.
It's stories that truly connect us to each other.
What if you were given the gift of a miracle of seeing death flash before your very eyes but not actually dying. Imagine being the character Ebeneezer Scrooge  in 'A Christmas Carol', where you are given a chance to change your ways.
Would you take it?
In less than 5 minutes Ric Elias shares his powerfully poignant story of how he did.
Perhaps we can all learn something from Ric's experience.
How about this for an attention grabbing opening:
"Imagine a big explosion as you climb through 3,000 ft, a plane full of smoke. Imagine an engine going clack, clack, clack, clack, clack, clack, clack."
In a very serious and compelling talk that lasted less than 5 minutes, Ric managed to get his audience to use their imagination several times, reflect on the precious gift of life, yet also laugh at least 3 times.
Ric isn't a professional speaker or presenter, he's a guy who had a front-row seat on Flight 1549, the plane that crash-landed in the Hudson River in New York in January 2009.
Thankfully he lived to tell the story along with his 154 fellow passengers. We get to learn from what went through his mind during what quickly became known as 'The miracle on the Hudson"
In this powerful short talk he shares 3 messages we can each take into the New Year ahead:
– Life can change in an instant, don't postpone anything
– Don't waste your time on things that don't matter
– Find out what really matters to you and do or be it
Ric Elias: 3 things I learned while my plane crashed
Is there anything you would like to change this Christmas?
3. Try something new for 30 days
It's estimated that at least 25% of New Years Resolutions are broken in the first week and more than half after 6 months.
According to Charles Duhigg, the author of 'The Power of Habit', as many as "40-45% of our daily activities are habits".
Personally, I happen to think that the percentage is much higher than that; perhaps even closer to double.
Anyone who's ever tried to break one or start a new one knows just how powerful habits can be. If you've ever tried to lose weight, give up smoking, or just start exercising everyday you'll know exactly what I mean.
The good news is that habits are easier to make than they are to break
If you repeat a behaviour often enough, you create synaptic pathways in your brain that are the cause of creating habits in the first place; making those behaviours stick. Everything we do causes synapses to fire in our brain that guide communication there and when any behaviour is repeated enough, the synaptic pathways associated with that pattern get used to being accessed.
In this short but interesting TED Talk, Matt Cutts suggests that repetition should take place consistently over 30 days.
With the New Year  literally around the corner why don't you watch the video and give it a try
As Mindful Presenters we would urge you to give some careful thought to what you really want to achieve and why you want to achieve it before you begin your 30 days.
We believe that it doesn't matter who you are, where you come from or what you have – you can have anything you want if you can answer 'yes', to just two questions:
The first question is, 'are you able?'
That means asking whether it's humanly possible that someone like you could be do or have what it is you want to be do or have.
Unless it's physically impossible, like you're 5ft 2 inches and want to be 6ft, we don't believe you're able to do that (yet!).
If everything else is possible and therefore you must be able to achieve it, then the only question potentially in your way is; 'are you willing?'
That means are you willing to do whatever it takes to make it happen?
Sadly for many, the answer to this second vitally important question, is often no.
So here's a new question:
'Are you willing to do whatever it takes for just 30 days'
We truly hope so.
Matt  Cutts : 'Try something new for 30 days'


Wishing you a very Happy  Christmas and a healthy, wealthy, and wonderfully wise New Year
Lets make it a year to truly remember!
If you need help presenting in the New Year:
– Book yourself onto a powerful public speaking course.
– Invest in some really good one to one public speaking coaching.
– Get yourself some excellent presentation training
I really hope you enjoyed this post. If you did, please feel free to share it through your preferred social media channels below and subscribe to our mailing list so you won't miss any future posts.
If this article has inspired you to learn a little more about how effective your presentation skills are you may want to take a look at our presentation training and public speaking coaching pages to see how we may be able to help you. You will also find a great deal of really helpful 'free' information in our Learning Centre.
Image: Courtesy of Canva.com