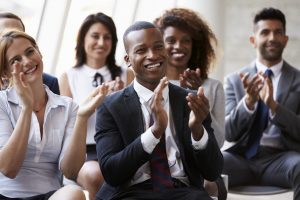 Planning what you're going to say in a presentation is vitally important.
In today's fast paced and highly competitive age of information, often the first thing a presenter will do when asked to speak is fire up their laptop.
The second step is often filling slides with everything they know and want to say on the subject.
We call that presenting by 'autopilot' and there's a much better way
The route to a successful presentation is planning what you're going to say
Art has been defined as a vehicle for the expression or communication of emotions and ideas while science is described as both a body of knowledge and a process. Presenting is that vehicle and this series of articles will show you exactly how to use our extensive knowledge and result driven processes to communicate and express your ideas to create an emotional connection as well as intellectual understanding.
Where do you start?
Planning what you're going to say with know your audience
The Audience
– Who are they, what are they like and what do they care about?
– Why are they here and where do they need help?
– What pressures are they under?
– Who are the decision makers and influencers and what common ground do you have with them?
– Who are the supporters, the antagonists and what common ground do you have with them?
– How can you help them?
– How do you want them to be different at the end of your presentation?
– What do you want them to think, feel and do?
Many presenters craft their presentation under the common misconception that the presentation is all about them.
It's not, it's always about the audience
The presenter's first task is to frame the entire presentation with that focus at the forefront of their mind.
Planning what you're going starts with understanding for yourself what it would be like to your audience for a day.
Your audience came to see what you can do for them, not what they can do for you.
Research is imperative in planning what to say
Find out as much as you can about the make-up of your audience in terms of:
Politics
Personalities
Values
Attitudes
Experience
Interests
Culture
Don't focus exclusively on the decision makers in the room or those holding the power or influence
You will alienate the rest of your audience if you don't consider the wider group.
The presenter's job is to connect with the whole room.
That means finding common ground with everyone, not just the decision makers.
If you don't know the audience personally
–  Read the companies annual report.
– Study their website.
– Read press releases about them, their industry and market.
– Find out their mission, vision and values.
– Set Google alerts to notify you when the company is mentioned on line.
– If you know the names of some of your audience find out as much as you can about them through social media. Read their LinkedIn profiles, twitter feeds and Facebook updates.
When planning what to say, keep in mind that there will be:
Those who need the facts
These people will need the data, evidence, case studies, features and benefits.
They will also need that information presented in a logical, structured and rational way.
They will want you to get to the point and focus on solving the problem.
Elicit their thoughts about processes, procedures, problems and prepare answers to these questions:
Can you prove it? Has it worked before? What's the evidence based on?
Those who need to feel something
These people will need stories, metaphors and anecdotes.
They'll need to be taken on a journey by asking them thought provoking questions, surprising, shocking them and making them smile.
Give these people time to explore their own thoughts and feelings .
Pepare answers to these questions:
How will this affect everyone? Will it affect our personal circumstances? Can we change it later? What do other people feel?
Those who need to see the future
These people need to see the big picture.
You need to help them to see where acting on your message will take them.
Prepare an answer to this question:
What will the new world look and feel like?
Understand exactly what the decision makers and influencers need but don't make the mistake of not planning with everyone else in mind.
Address the needs of the different segments of the audience ensuring there is something for everyone.
When you've done your homework and really know your audience then you can prepare a conversation rather than a presentation.
People are far less likely to drift off in a conversation than a presentation
Focus on connecting rather than presenting
If you need help planning what to say in a presentation:
– Book yourself onto a powerful public speaking course.
– Invest in some really good one to one public speaking coaching.
– Get yourself some excellent presentation training
Image: Courtesy of istock.com