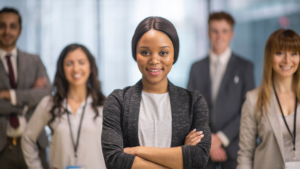 Many leaders would agree that one of the key elements of their organisation's success, depends on their team's public speaking skills.
Whether it's a business update, sales pitch or client meeting, your team's public speaking skills and effectiveness can significantly influence the way both you and your business are perceived.
That presents an interesting leadership challenge
Everyone has different levels of experience, skills, confidence and communication styles.
Leaders are blessed with teams of unique individuals who each have their own views and feelings on what highly effective presenting looks like.
As the leader, your views may be very different from your teams
Just because they presented themselves well in their interview and got the job, doesn't mean they don't need help.
The moment they achieve a level of competence in their new role it's likely they'll be presenting in situations they may not be familiar in, or comfortable with.
– Leading change
– Inspiring action
– Updating the senior management team
– Impressing clients
– Motivating their own team
– Dealing with conflict
– Persuading others
– Influencing stakeholders
– Selling products, services or ideas
– Reassuring dissenters
– Getting people 'on board'
– Removing uncertainty
– Clarifying a situation
What could possibly go wrong?
Great leaders don't make assumptions or rely on chance, they develop their team's public speaking skills.
Contrary to popular belief, effective public speaking and presenting isn't a skill most of us are born with.
It's one we have to learn
We all know how to speak but doing so in a presentational sense can be a challenge for many professionals.
It may seem like you're simply asking your team to share their knowledge but they don't quite see it that way.
They have to get their audiences attention, interest and curiosity whilst often being:
– Professional
– Confident
– Authoritative
– Engaging
– Interesting
– Stimulating
– Entertaining
– Empathetic
– Open
– Honest
– Authentic
They demonstrated those characteristics in the interview, so what's the problem?
The dynamics have changed
– They are being judged by a larger and more diverse group
– Some may struggle with imposter syndrome
– Their reputation and credibility feels openly at stake
– People in the room may have greater knowledge on the topic
– Someone could ask them a question they don't know the answer to
– They don't have enough time to prepare and practice
– Some may feel intimidated by the seniority, experience or status of their audience
– It could be a hostile, challenging or emotionally charged environment
– The presenter may be a perfectionist
– They have endured so many bad presentations themselves
– They know that they have to perform well
– It could affect their career
– They may not feel as comfortable as you think they are about the topic
Giving a high impact presentation takes a lot of work
Don't assume that the team's public speaking skills are as effective as you'd like them to be.
Presenting is hard
Crafting and delivering a highly effective presentation takes:
– Time
– Focus
– Creativity
– Courage
– Mindfulness
– Presence
– Awareness
– Knowledge
– Purpose
– Confidence
– Preparation
– Practice
– Rich and compelling content
– Discipline
– Effective verbal and non-verbal skills
Your team need your help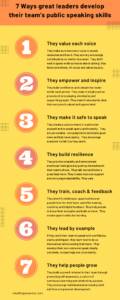 If you'd like to develop your team's public speaking skills
– Book yourself onto a powerful public speaking course.
– Invest in some really good one to one public speaking coaching.
– Get yourself some excellent presentation training
Image courtesy of Canva.com