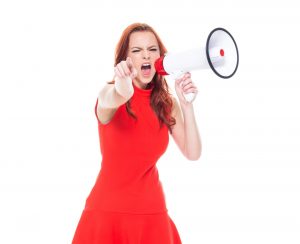 Tthe following 5 presentation nuggets from forbes.com will serve you well the next time you are asked to present.
1. Believe in Your Audience 
"Employees mirror the enthusiasm, determination, and direction of a leader who shares innate confidence in their competence. With this understanding, employees learn to "act their parts" and exemplify the underlying expectations you hold."
Cheryl Conner 
The Core Presentation Skills Every Entrepreneur And Executive Need
2. Never Sell from the Stage 
 "The best relationship between speaker and audience is one of trust and authenticity. You can't achieve that happy state if you're selling them something. So keep your advice pure and your stage sales-free."
Nick Morgan
Nine Steps To Presentation Greatness
3. Half as Long Is Twice As Good 
"Brevity isn't just "the soul of wit," it's what's going to ensure that your audience's attention span makes it to the finish line at the same time your presentation wraps up–not before. Ask yourself, if I can only remember three things, what must I remember? Boil it down to three six-word bumper stickers. Build the message around those three."
Kathryn Dill 
Never Give A Boring Presentation Again

4. Make your numbers pop 
"One of my favorite storytelling techniques is to make statistics jump off the slide. The president and CEO of Samsung Electronics , Boo-Keun Yoon, provided a good example of this technique in his keynote when he announced that 'last year Samsung delivered more than 665 million products to the hands of consumers around the world.' Most presenters would have stopped there. 
The Samsung CEO took it one step further and said, 'This number is set to increase to about 20 devices per second.' He stood quiet for a second and then said, 'There's another 20' as the audience laughed. Do you think the members of the audience will forget that Samsung delivers 20 devices per second? 
Not a chance."
Carmine Gallo 
5 Presentation Tips From CEO Keynotes At CES
5. Make a personal connection 
"If there is no personal reason that an audience should care about a speaker or their topic, they will rarely be bothered to listen or engage. The most vital and useful way to persuade your audience is by appealing to their feelings. 
First and foremost, listeners want to be inspired with stories, humour, images and examples — to engage their right-brain activities. Then, to drive your point home, utilize the left-brain data that corroborates the feelings. By engaging both the head and the heart, your audience will take away a memorable impression that is balanced and exciting."
Murray Newlands
Avoid These 6 Public Speaking Mistakes That Even Experts Make
If you need help with your presentation skills:
– Book yourself onto a powerful public speaking course.
– Invest in some really good one to one public speaking coaching.
– Get yourself some excellent presentation training
Image: Courtesy of flickr.com