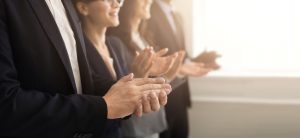 Presenting is about crafting and delivering a persuasive message with meaningful stories. After all, there's not much point in delivering an Oscar winning performance if your objective is to lead your audience into action and they simply applaud and do nothing. 
When you are mindful they too become mindful and will act on your ideas. We believe that each of the following extracts published by fastcompany.com are worth sharing to help us think about how we can improve our presentations further.
 1. PRESENTING IS HARD
 "Presenting is hard. Considering the nerves, the anxiety, the awkwardness, and the stares, no matter the venue, we all struggle with presenting. The question is, "Why?" A lot of our struggles stem from fear. After all, stage fright is one of the most common phobias known to man. 
 Still—and I hate to be the one to say this—all the breathing exercises, positive self-talk, and power posing in the world won't save you from a shallow, sweaty grave if your presentation itself is a bust. Our real problem isn't fear. It's our messages: our flat, lifeless, no-flesh-just-bones messages.
 So what's a presenter to do? 
 The answer lies in stories." 
 AARON ORENDORFF
BRING YOUR PRESENTATIONS TO LIFE WITH THESE 5 STORYTELLING COMPONENTS
Personal Note
It still surprises me how often we are called to coach professionals to deliver a high-stakes presentation when the content itself lacks substance. I think Aaron's point is an extremely valid one that we need to keep in mind.
It really doesn't matter how many 'techniques' you learn and 'tools' you use if your content is weak. Stories and relevancy are major parts of the answer. 
The key to ensuring a presentation is content rich before you concern yourself with its delivery is making sure that everything you plan to say is of value to your audience. Despite Aaron's comment, once you have that clarity breathing properly goes a long way to helping you to deliver your message with impact. 
 2. WORK ON YOUR BREATHING
"One way you can manage your speaking anxiety is to focus on your breathing. How many times have you heard this advice? "If you're nervous, just take a few deep breaths.
Wrong. 
Taking a deep breath puts the emphasis on the wrong component of breathing. 
The focus needs to be on exhaling, not inhaling. It's not as if you have a shortage of air, so you need to take in as much as you can—you really just need a sip, not a big gulp. 
By focusing on your exhales, you will decrease your tension significantly"
ANETT GRANT
HOW YOU CAN FINALLY CONQUER YOUR FEAR OF PUBLIC SPEAKING
Personal Note 
The only thing I would add to Anett's advice is the essence of mindfulness. In other words as you breathe focus closely on each inhale and exhale.
Don't just breathe, be mindful of each breath.
The impact of breathing is greatly increased when you notice it.
 3. KEEP IT REAL 
 "When Ronald Reagan wrote about public speaking, he shared 'a little secret that dates back over 50 years to my first stint at a microphone.' On his first day as a radio broadcaster, Reagan was nervous. He wondered how he would 'connect with all these people listening to the radio.' 
 The secret? Instead of talking to a 'group of unknown listeners,' he imagined he was speaking to the 'fellows in the local barbershop.'" 
CAMILLE SWEENEY AND JOSH GOSFIELD 
8 MASTER STRATEGIES FOR PUBLIC SPEAKING
Personal Note
Like most good advice it's easier said than done but then again isn't everything? The bottom line is that perception is everything and so if you see your audience as a predator that's exactly what they will be. It's much better to see them as friends.
 4. IF IT SEEMS LIKE YOU'VE LOST THEM, ACKNOWLEDGE IT
 "Anybody can invoke an attention span snag, but not everybody has the wherewithal to rise above it and win the audience back. 'Sometimes the audience just checks out in improv shows, and sometimes that happens in meetings too,' Mantzoukas says. "I've been in meetings where someone has just pulled their Blackberry out and checked it. And then it's like, 'Oh, shit, this is not going well.' I'm somebody who will call it out, the same way that one time when someone fell asleep in the front row of a show I was doing, I stopped the show so that we could all go and take a picture with the sleeping person. So I will call it out, in a way to be like, maybe I've gotten off-track, let me dial back in to what we should be talking about." 
JOE BERKOWITZ
Personal Note
Isn't it fascinating that one of the major issues presenters face is the need to be perfect while their audience just wants them to be themselves. If you lose your way at any point forget your place or simply sense there is something that isn't quite right acknowledge it. Your audience will respect and appreciate you for it.
5. SEEK THE DEFINING MOMENT 
"A trailer's most valuable asset? Originality. 'The first thing we look for is fresh moments that you wouldn't see in another movie because, let's be honest, movies can often be derivative,' he says. 'If something worked once, there'll be four spin-offs of that idea, so there's a lot of repetition in the marketplace.
You want to pick out things where you say, 'Okay that doesn't look like 10 other movies I've seen.'"
HUGH HART
9 (SHORT) STORYTELLING TIPS FROM A MASTER OF MOVIE TRAILERS
Personal Note
At mindful presenter we call it the 'M point' The 'M point' represents the moment of truth. 'What result do I really want from this presentation?' 
This is the third article in the short series of favourite tips and suggestions from other presentation skills coaches who share our passion for leading and connecting each time we speak.. 
I really hope you enjoyed this post.
If you did, please feel free to share it through your preferred social media channels below and subscribe to our mailing list so you won't miss any future posts.
Image: Courtesy of flickr.com