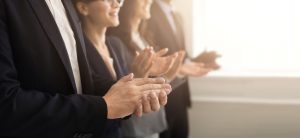 Here are 5 Presentation lessons from fastcompany.com
Presenting is about crafting and delivering a persuasive message with meaningful stories.
After all, there's not much point in delivering an Oscar winning performance if your objective is to lead your audience into action and they simply applaud and do nothing. 
The following 5 Presentation lessons from fastcompany.com may help you with your public speaking skills:
 1. PRESENTING IS HARD
 "Presenting is hard. Considering the nerves, the anxiety, the awkwardness, and the stares, no matter the venue, we all struggle with presenting. The question is, "Why?" A lot of our struggles stem from fear. After all, stage fright is one of the most common phobias known to man. 
 Still—and I hate to be the one to say this—all the breathing exercises, positive self-talk, and power posing in the world won't save you from a shallow, sweaty grave if your presentation itself is a bust. Our real problem isn't fear. It's our messages: our flat, lifeless, no-flesh-just-bones messages.
 So what's a presenter to do? 
 The answer lies in stories." 
 AARON ORENDORFF
 2. WORK ON YOUR BREATHING
"One way you can manage your speaking anxiety is to focus on your breathing. How many times have you heard this advice? "If you're nervous, just take a few deep breaths.
Wrong. 
Taking a deep breath puts the emphasis on the wrong component of breathing. 
The focus needs to be on exhaling, not inhaling. It's not as if you have a shortage of air, so you need to take in as much as you can—you really just need a sip, not a big gulp. 
By focusing on your exhales, you will decrease your tension significantly"
ANETT GRANT
HOW YOU CAN FINALLY CONQUER YOUR FEAR OF PUBLIC SPEAKING
 3. KEEP IT REAL 
 "When Ronald Reagan wrote about public speaking, he shared 'a little secret that dates back over 50 years to my first stint at a microphone.' On his first day as a radio broadcaster, Reagan was nervous. He wondered how he would 'connect with all these people listening to the radio.' 
 The secret? Instead of talking to a 'group of unknown listeners,' he imagined he was speaking to the 'fellows in the local barbershop.'" 
CAMILLE SWEENEY AND JOSH GOSFIELD 
 4. IF IT SEEMS LIKE YOU'VE LOST THEM, ACKNOWLEDGE IT
 "Anybody can invoke an attention span snag, but not everybody has the wherewithal to rise above it and win the audience back. 'Sometimes the audience just checks out in improv shows, and sometimes that happens in meetings too,' Mantzoukas says. "I've been in meetings where someone has just pulled their Blackberry out and checked it. And then it's like, 'Oh, shit, this is not going well.' I'm somebody who will call it out, the same way that one time when someone fell asleep in the front row of a show I was doing, I stopped the show so that we could all go and take a picture with the sleeping person. So I will call it out, in a way to be like, maybe I've gotten off-track, let me dial back in to what we should be talking about." 
JOE BERKOWITZ
5. SEEK THE DEFINING MOMENT 
"A trailer's most valuable asset? Originality. 'The first thing we look for is fresh moments that you wouldn't see in another movie because, let's be honest, movies can often be derivative,' he says. 'If something worked once, there'll be four spin-offs of that idea, so there's a lot of repetition in the marketplace.
You want to pick out things where you say, 'Okay that doesn't look like 10 other movies I've seen.'"
HUGH HART
If you need help with your presentation skills
– Book onto a powerful public speaking course.
– Invest in some really good one to one public speaking coaching.
– Get your team some excellent presentation training
Image: Courtesy of flickr.com