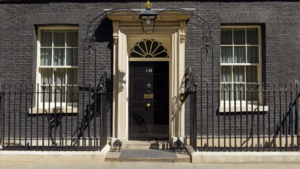 Rishi Sunak's impressive presentation delivery at the Conservative party conference was a good example of how to speak with confidence and conviction.
As far as public speaking and presentation skills are concerned he arguably ticked all of the boxes of an impressive presentation delivery.
As the prime minister you would of course expect a high level of command and eloquence when delivering an important speech.
The presenter's challenge
The prime minister faced the same challenge during his conference speech that all presenters and speakers face every day. The difference of course is that there is arguably a lot more at stake for him each time he speaks.
When the leader of a country speaks, most of us take it for granted that they will be able to do so with a high degree of confidence and clarity. Their greater challenge is to present substance. In other words, content which is rich, rewarding and compelling. An impressive presentation delivery which shares information, ideas and insights which people will feel something about and remember is the real challenge.
The presentation delivery
Here's why I believe that Rishi Sunak's presentation delivery was impressive:
It demonstrated:
– A high level of confidence and ease as a speaker
– Hand gestures and movement offering a little visual energy and stimulation
– What looked like some good eye contact with a very large audience
– A pace which was very easy to follow
– Timely pauses allowing key points to 'land'
– Structured content which felt focused and easy to follow
– A little humor – his opening reference to his wife "Truly the best long-term decision for a brighter future I ever made"
– Some personal self-disclosure – "My dad was a GP and my mum a pharmacist"
– Story telling – how as a teenager he helped deliver prescriptions and do the books in his mum's pharmacist
– Vocal energy and contrast
– The power of a smile
– Using a script but not having your eyes tied down to them
Overall, I'm sure that political views and preferences aside, most people would say that  Rishi Sunak is a good speaker and on this occasion his presentation delivery was impressive.
What about his content?
The answer to that question of course depends on your perspective.
If you're a staunch conservative supporter, you'd probably say that nothing went wrong at all. In fact, you may go as far as to say it was brilliant.
If your political views and beliefs are aligned more closely to any of the opposition parties you'd probably have plenty to say on the matter. In fact, if that's where you sit you may vehemently disagree with my perspective on Rishi Sunak's presentation delivery.
Content matters a great deal
My views are presented purely through my passionate belief of what it takes to connect with an audience as a  public speaking and presentation skills coach beyond delivery.
Rishi Sunak's speech was just over an hour long, comprising of more than 7,500 words.
The opening
A warm, sincere and heartfelt reference and thank you to his parents. This includes an important message:
"They didn't believe community was some extension of government. Rather, they understood community is sustained by individuals, by those who look out for their neighbour, treat others as they would like to be treated."
Reflections
"But today I want to share with you my reflections on what I have seen and what I have learnt doing this job."
Rishi Sunak spoke warmly and proudly of:
– Veterans
– The armed forces
– Intelligence services
– Johnny Mercer, Ben Wallace, Grant Shapps
– Providing support to Ukraine
So far so good!
"Politicians spent more time campaigning for change than actually delivering it. It doesn't have to be this way. I won't be this way. Our mission is to fundamentally change our country."
Many people would regard this statement as an obvious truism which political leaders have expressed for decades.
I guess the question on many people's minds may be, why has it taken you 13 years?
Haven't we heard it all before?
What's different this time?
This is where despite his strong oratory skills, opinions will differ wildly as to how well his content served his rhetoric :
"Today, I will set out how we will achieve this. Beginning with a set of long-term decisions, to build a brighter future for our children and fundamentally change our country. "
Isn't this at the core of every leadership speech?
Hasn't every prime minister vowed to, 'build a brighter future for our children and fundamentally change our country,' in their own words?
He spoke of his decision to 'chart a new course to Net Zero' but I'm not entirely sure that he explained how.
Whilst his presentation delivery articulated his justifications for this passionately and articulately, many would argue that it didn't offer much hope or substance on this vitally important issue.
Tax cuts
"But the best tax cut we can give people right now is to halve inflation."
Whilst most of us understand that inflation and tax can both affect people's disposable income, many people would struggle to see the reduction of inflation as a 'tax cut.'
Once again, a reasonable thought I'm sure but not exactly compelling for many.
Brexit
"Since leaving the single market, we've grown faster than France and Germany.
Not despite Brexit, because of Brexit. We have the largest life sciences, financial services, creative and tech sectors in all of Europe."
I would have encouraged the prime minister to share some very real and rich examples of this for the average household in the UK.
Perhaps it would be good to know whether:
– The use of food banks has declined since BREXIT.
– The NHS and education are much stronger since BREXIT
– Where people are satisfied with the overall result of BREXIT
Maybe he did so, when his impressive presentation delivery made it clear that:
Unemployment is down and we :
–  Have the lowest corporation tax rate in the G7
– Are the best place to invest in the machinery and equipment
– Are  creating a more agile regulatory system
– Have new free ports
These sound like  very notable achievements which we should be told. The question is, are they as impactful to the average person in the UK that they are presented as being?
Infrastructure 
"I am cancelling the rest of the HS2 project. And in its place we will reinvest every single penny, £36 billion, in hundreds of new transport projects in the North and the Midlands, and across the country."
Again, it depends on which side of the track you sit, (if you pardon the pun) but if it's true, it does sound compelling to many.
Having our own supersonic train system sounds exciting but does it help the average person?
The NHS
"The NHS is important to us all. It is the birthright of every person in this country."
This is a very powerful opening statement on the topic.
I can't image that anyone would argue with his proceeding commitment and ambitions for the NHS, although his comments on strike action will of course be very controversial and inflammatory for some.
Everyone will have their own view on this but we can be in no doubt that Rishi Sunak is open to expressing his own very freely.
Smoking
As someone who held his own father's hand  as he took his last breath in a hospital bed dying from throat cancer, this felt very personal to me.
This part of his speech was the most compelling to me purely for this reason.
My only question is that if we really are going to save so many lives, why take the gradual approach and not just do it now?
Illegal immigration
"I never pretended that stopping the boats will be easy."
"We are by no means where we want to be."
Whatever our views are on this highly controversial topic, I believe that one thing that everyone wants from a speaker is honesty.
I'm still not sure if I understand exactly how he will stop the boats though, are you?
Furlough
"When the pandemic hit, we were faced with the prospect of 12 million people losing that security, that purpose overnight. And once you're out of work, it can be hard to get back in. I wasn't prepared to cast 12 million people into that darkness."
The pandemic is an entirely separate conversation of its own. That said, the help that many people received through the furlough scheme has long been forgotten and is worth reminding us of.
Our benefits system
I'm mindful of the fact that I will have already crossed the line in this article for those with opposing views.
"In 2011, one in five of those doing a work capability assessment were deemed unfit to work. But the latest figures now stands at 65%. Are people three times sicker today than they were a decade ago?"
This is possibly one of the most challenging and controversial topics a leader can speak about. The fact remains, it's one that has to be discussed.
It's a tough one but what about the many people we all know who are working incredibly hard every day just to survive. It could be argued that far too many people are tiptoeing though life financially, hoping to make it safely to death.
The Government of course can't and shouldn't be responsible for fixing this but do they at least have a significant role to play.
Crime
"If the police tolerate crime and anti-social behaviour in any form, we will have more crime of all sorts. So we now have a record number of police officers and every crime should be investigated. Our streets will be safer, our communities more secure, no-one should be afraid to walk home alone at night."
I'm sure that everyone will agree with the first sentence and be very hopeful that the last sentence is true.
With regard to the record number of police officers, personally, I can't say that I see any evidence of this on the streets anywhere I visit.
I dread turning on the news each day to hear of yet another senseless murder.
"And I am clear: there are some crimes so heinous, that those who perpetrate them should spend the rest of their lives behind bars."
Would you disagree with that sentiment?
Education
"We have state schools in some of the most deprived parts of the country, producing some of the best results. These state schools, empowered by reform, don't think there are limits to these children because of the postcode they were born in."
With passion and poise the prime minister shared his ambition to address the problems with our 16 to 19 education system.
It's a strong and healthy message although doesn't our future need more than results? Shouldn't it be focused on values, behaviour and responsibility?
Closing
"You either think this country needs to change or you don't. And if you do, then you should stand with me – and every person in this hall. You should stand with the Conservatives."
"A government prepared to make long-term decisions so that we can build a brighter future – for everyone. Be in no doubt: it is time for a change. And we are it. Thank you."
Rishi Sunak shared a great deal during his hour long speech.
Whether we believe him or agree with him is an entirely personal matter of course.
Personally, I am very tired of false political hopes, promises, egos and power plays. I have no idea whether this particular speech will deliver anything tangibly meaningful.
I really hope it does.
In the meantime, I can only offer a perspective on it in terms of its presentation delivery and general approach to content.
In summary, I think he made a good job of his speech although if I were coaching him I'd like to focus just a little more on content.
Watch the speech here:

If you'd like to learn how to present with confidence:
– Book yourself onto a powerful public speaking course.
– Invest in some really good one to one public speaking coaching.
– Get yourself some excellent presentation training.
Image courtesy of Canva.com