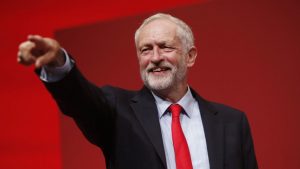 Jeremy Corbyn repeatedly insisted that he and his party are 'ready' during his Labour conference speech last week. I can't comment on his political readiness to lead a country, but I do have some thoughts regarding his oratory fitness to speak at a conference.
Two years ago in my article 'Cameron v Corbyn – presenting v protesting' I wrote about the stark contrast between David Cameron and Jeremy Corbyn's conference party speeches.  Politics aside, I expressed the view at that time that David Cameron's speech was not only visionary but delivered with great passion and personal conviction. In contrast, I wrote about how I felt that Jeremy Corbyn's 2015 Labour conference speech was one of 'complaint and protestation.'
I recognised at the time that it was his first major speech as Labour Leader and that whilst his delivery was 'adequate', I offered him some tips to help him substantially increase his impact as a speaker. These were:
– Ditch the jokes
– Stop complaining and focus on the possibilities and opportunities
– Share a vision, not everything that's wrong
– Slow down and pause every now and then
– Take us on a journey and focus on your structure
– Inject energy and enthusiasm
– Stretch your voice
Having offered these crucially important suggestions, I was very keen to see for myself whether he had taken any of my advice two years on.
The new Jeremy Corbyn
He didn't 'ditch the jokes', but he did radically reduce the number of them and this time mindfully selected ones that worked for him. A little bit of appropriate humour is very healthy, especially when talking politics.
He didn't stop complaining and, as you may have expected, most of his speech had the resemblance of his rant from two years ago. This time however, he managed to weave in a little vision and purpose which was clearly well received by his audience. Despite his repeated attacks of the conservative party and the media, which of course is not unusual in political speeches, he did offer some hope this time.
In comparison to 2015 he appeared far more professional and a great deal more confident and, ranting aside, he did take his audience on a compelling journey.
He spoke with the passion, conviction and contrast required to engage and captivate his audience for over an hour.
He started with a short, relevant and powerful story.
Despite their election defeat he celebrated the 'largest increase in the Labour vote since 1945.'
He used the powerful rhetoric of repetition, emphasising with great clarity and strength how:
"Labour is ready.
Ready to tackle inequality, ready to rebuild our NHS, ready to give opportunity to young people, dignity and security to older people, ready to invest in our economy and meet the challenges of climate change and automation, ready to put peace and justice at the heart of foreign policy.  And ready to build a new and progressive relationship with Europe."
He offered hope over the uncertainty that much of the nation has been feeling over Brexit.
He reassured the three million EU citizens currently living and working in Britain of his commitment to them.
He spoke of the failures of water companies through privatisation and promised to bring them back into public ownership along with other utilities.
He championed the creation of jobs and wealth, a much stronger and more effective education system and of course our cherished NHS.
He even made poignant reference to the tragedy of Grenfell Tower.
In terms of hope, promises and commitment, he didn't say anything new that you wouldn't expect any other political leader to say. So you may by now asking, 'so, what is new?'
It's the way he said it.
This wasn't the angry, stumbling and unfocused speaker we saw and heard back in 2015. In my previous article comparing him to David Cameron, I wrote:
'For me it lacked structure and focus and was delivered in such a monotone way that you wouldn't be blamed for reaching for your phone.'
Last week I can't imagine anyone in the audience wanting to reach for their phone. This was a speaker who appears to have come a very long way purely in terms of his oratory skills in just two years.
Have a look for yourself and see what you think.
I really hope you enjoyed this post. If you did, please feel free to share it through your preferred social media channels below and subscribe to our mailing list so you won't miss any future posts.
If this article has inspired you to learn a little more about how effective your presentation skills are you may want to take a look at our presentation training and presentation coaching pages to see how we may be able to help you. You will also find a great deal of really helpful 'free' information in our Learning Centre.
Image courtesy of: Google Images