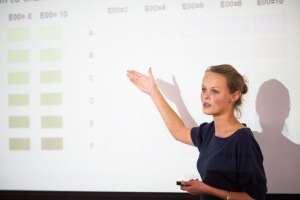 I still remember the very first time I was invited to make a presentation to my senior management team. I couldn't sleep for days; my mind was filled with dread, and every nerve, cell and fibre of my entire being felt like they were preparing for a major meltdown. I was only in my early twenties, but I believe that even the cuff on a blood pressure monitor would have been trembling.
It was a long time ago, but I remember it well, just as I do those few days before I prepared for my first kiss.
Fast-forward 30 years and I find myself not only presenting to senior executives all over the world, but teaching professionals to enjoy their first kiss, if you understand my meaning. As the old saying goes, "I only wish I knew then what I know now".
Sometimes people learn just that little bit quicker and easier by focusing on some of the mistakes they need to avoid, so here are my top seven.
Read more here: https://blog.gotomeeting.co.uk/2015/04/02/7-mistakes-to-avoid-when-presenting-to-senior-management.html#more-1850
Join the webinar:
The Biggest Mistakes to Avoid When Presenting to Senior Management
I really hope you enjoyed this post. If you did, please feel free to share it through your preferred social media channels below and subscribe to our mailing list so you won't miss any future posts.
If this article has inspired you to learn a little more about how effective your presentation skills are you may want to take a look at our presentation training and presentation coaching pages to see how we may be able to help you. You will also find a great deal of really helpful 'free' information in our Learning Centre.
Image courtesy of: Flickr.com