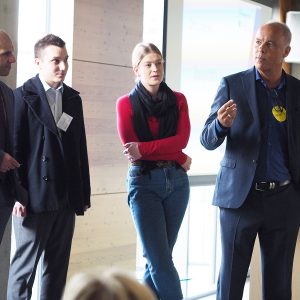 If you are a presenter or speak in public and you attend any form of presentation training you will be on the look out for a 'game changer'. That's a reasonable starting point of course but a far more effective one is taking a step back to understand what great presenting really looks and feels like.
One of the very first questions we ask delegates at our Mindful Presenter training workshops is what in their opinion are the key characteristics that make a 'great presenter'? The responses are always extremely long and very similar.
The top 10 we see time and time again are:
Confidence
The ability to tell a great story
Inspirational
Honesty & sincerity
Self-awareness
Energy & enthusiasm
An expressive voice
Great body language – congruence
Knowledge & credibility
A sense of humour
Most of the time we would have a whole wall covered with post it notes each highlighting a different and very specific attribute that professionals believe are the key components required to be a great speaker.
For most people being a powerful speaker doesn't appear to be a straightforward process but the good news is that it's easier than you may think.
Here are a few tips to help you.
1. Frame the facts
Facts are important but they are not enough. On their own they could just as easily be sent in an email or document where they could be read and absorbed quickly by recipients who could respond just as quickly with any questions they may have.
Facts should be used to tell a story and create an impact.
The best way to use them is to interpret them as a reason to influence and drive support for or against something. In a former role as a corporate exec I once had to present a complex business case to the board asking them to approve a multi-million pound investment for a new technology platform. The facts, in terms of the numbers and data to support the case were of course critical but without the emotional connection as part of the story it wouldn't have been enough.
To ensure a successful sign off I had to also turn the data into a story in terms of the serious adverse impact its decline would have on the business and the future opportunities it would afford us if ratified.
2. Get out more
Whether you are the CEO, head of marketing, or the team leader, if you're a human being and are tasked to present to others you face the same challenge regardless, of age, status or experience. We are conditioned as human beings to be creatures of habit.
The best presenters look for stimuli outside of their departments, organisations and industries. Go to conferences, seminars, trade events, read business and professional publications outside of your industry and use the internet more creatively too. Visit the website www.ted.com which is a source of inspiration and knowledge through short but often highly thought provoking and stimulating video talks.
3. Take a holiday
A number of years ago when I was working as the operations director for a global brand I remember suggesting to my CEO that he should pay me to stay on holiday. I was serious because as I explained to him I had my best ideas when I was lying on a beach somewhere in the Mediterranean or Caribbean soaking up the sun.
The point is that as speakers we each need to allow inspiration to come to us. Sitting at the same desk, talking to the same people about the same issues day after day after day doesn't provide the platform and space for inspiration and creativity to flow through us. As lovely as it sounds staying on holiday isn't an option for most of us, we have to find and do what is practical but works.
The next time you have an important presentation to prepare for take every opportunity you can beforehand to let inspiration come to you. We each have our own unique way of allowing our best ideas to come to us. For some it's taking a long walk in the woods, listening to soothing music, exercising, painting or pursuing a hobby. For others it may simply be spending more time playing with our children, reading, meditating or disconnecting by going 'off line' for a few hours.
I really hope you enjoyed this post. If you did, please feel free to share it through your preferred social media channels below and subscribe to our mailing list so you won't miss any future posts.
If this article has inspired you to learn a little more about how effective your presentation skills are you may want to take a look at our presentation training and presentation coaching pages to see how we may be able to help you. You will also find a great deal of really helpful 'free' information in our Learning Centre.